Guide to Cua Van fishing village
Cua Van Fishing Village is situated at Hung Thang Commune, Halong City, 20km away from the tourist boat wharf, the fishing village lies in a calm bay surrounded by mountain. Comming to Cua Van village, you can start from Cat Ba Island or Halong bay
Travel to Cua Van fishing village (or also called Van Gia village) of Ha Long Bay, Quang Ninh Province on a list of 16 most beautiful ancient village world. Along the beauty of the village retains original features, romance …
Criteria for selection of villages appear in this list as they have quaint, charming beauty, and preserve the traditional culture characteristic. Cua Van selected by convergence where all three is the most important factor.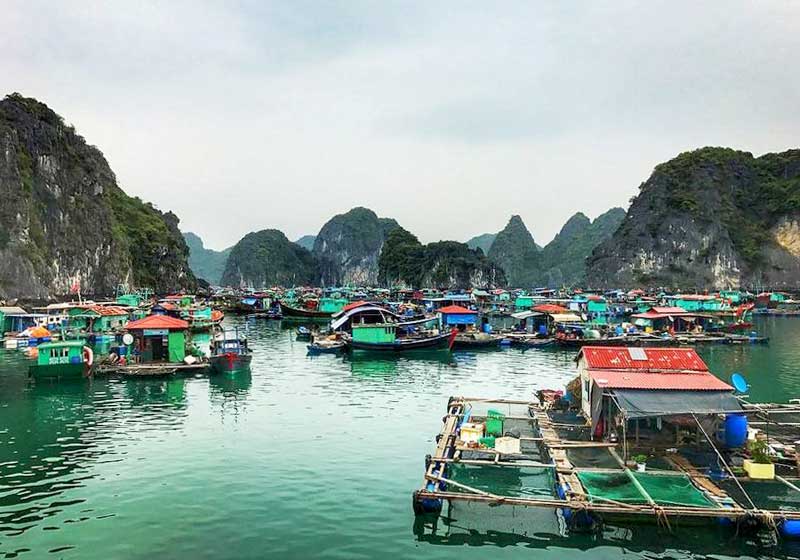 Cua Van Fishing Village with the majestic limestone mountains, fishing villages on the river float. The landscape here is extremely romantic and leave a distinct impression of visitors to the boat roof painted colorful pictures create a shimmering sea floating on Halong bay.
These things helped Cua Van Fishing Village became a rarity in the 16 villages still retain its beauty glamor world. The lives of the people here have not been disturbed by modern life.
At Cua Van Fishing Village, with more than 200 households living mainly by fishing. Households where the friends are up along the edge of the rocks. In particular, the daily lives of residents Cua Van floating fishing village vividly by what they, the signature song of Ha Long Bay.
Cua Van fishing village by appealing not only beautiful natural scenery, bustling life activities but also by people of all environment conscious effort to preserve. At Cua Van, floating all are very clean, tidy. People took turns rotating scavenging sailing on the sea every day, water savings reduce the amount of waste to the marine environment.
How to get to Cua Van fishing village
In order to come to Cua Van fishing village (Van Gia fishing village) visitors can take a boat from Halong Bay or you can also go from Ben Beo harbour, Cat Ba to visit Lan Ha Bay then visit Cua Van fishing village. When you come here, you can go kayaking to visit the village, visit children school then you can kayak to visit a Dark cave and Bright cave where you can see alot of colourful coral.
If you want to have one tour to explore Lan Ha Bay and the fishing village, you can follow the schedule comes from Beo wharf or Monkey Island Resort (Monkey Island) to visit Lan Ha Bay (Van Boi island, Bai Boi island, Ba Trai Dao area then visit Cua Van fishing village).
After lunch on the boat, you will return to visit Viet Hai fishing village in Cat Ba national park. You should choose biking or riding bicycle to visit the village because the scenery was beautiful on the two sides of the road. After visiting Viet Hai village , you can go swimming at the beach on Monkey Island then return to Monkey Island Resort to play and relax at the resort or if not, the boat will take you back to the Ben Beo harbour to come to Cat Ba Island town center.