Lan Ha Bay Vietnam
Lan Ha Bay, located in the south and east of Cat Ba Town and northeastern part of Vietnam's famous Halong Bay, is a stunning and relatively undiscovered gem in the country's tourism landscape. With its towering cliffs, hidden lagoons, pristine beaches, and abundant wildlife, this bay offers a unique and unforgettable experience for travelers of all types.
How to get to Lan Ha Bay
Flying into Haiphong airport
Visitors to Lan Ha Bay can reach the area by ferry from Hai Phong city or by flying into Hai Phong airport (Cat Bi airport) an then get taxi to Cat Ba Island. From Cat Ba Island, it's a short taxi or shuttle ride to the pier and from there, visitors can explore the bay by boat, kayak, or even rock climb. The bay is home to several popular attractions including Cai Beo floating village, Monkey Island, and several hidden lagoons and beaches only accessible by small boats.
Flying into Hanoi airport
Visitors to Lan Ha Bay can reach the taxi from Hanoi airport (Noi Bai airport) to Hanoi old quarter and get bus from Hanoi to Cat Ba Island about 3.5 hours, cost : airport to hanoi old quarter 12-15$, bus from Hanoi to Cat Ba Island 13$.
Activites in Lan Ha Bay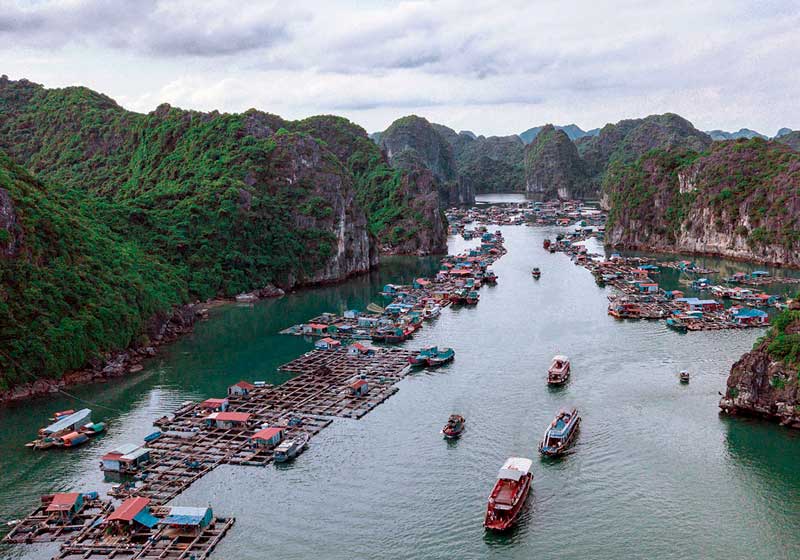 The local community in Lan Ha Bay relies primarily on fishing, agriculture, and tourism for their livelihoods, and are known for their warm hospitality and friendly demeanor. Visitors to the bay can experience a unique way of life by staying in a floating homestay or fishing village, where they can learn about local customs and traditions, participate in daily activities such as fishing and farming, and enjoy delicious local seafood.
For those looking for a more luxurious experience, there are several high-end resorts and floating hotels in the area. These offer a range of amenities including private beaches, spa services, and water sports activities. Regardless of the type of accommodation, visitors to Lan Ha Bay will enjoy breathtaking scenery, pristine waters, and an array of outdoor activities. From kayaking and rock climbing to beach-hopping and island-exploring, there is something for everyone in this beautiful bay.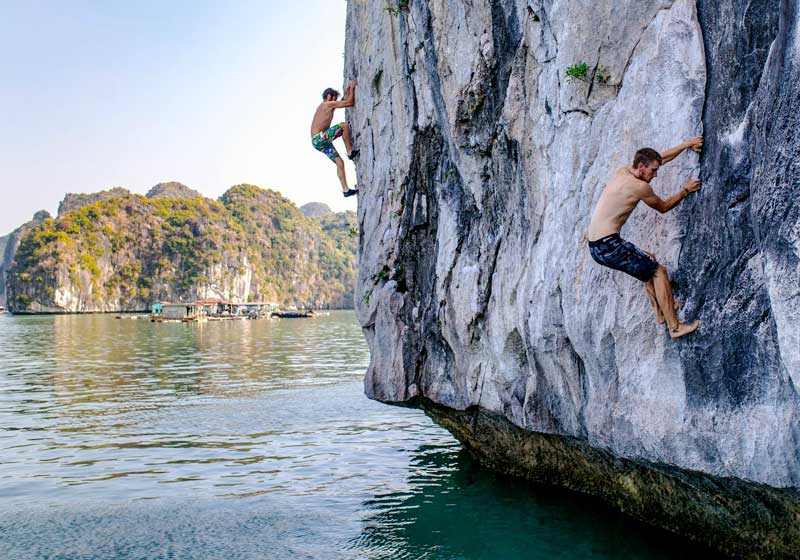 One of the most striking features of Lan Ha Bay is its towering cliffs, some reaching over 100 meters in height. These cliffs provide a breathtaking backdrop for kayaking and boat tours, and are also popular with rock climbers, who come from all over the world to test their skills on the challenging routes. The cliffs are also home to a variety of wildlife, including monkeys, squirrels, and several species of birds, making them a must-see for nature lovers and bird watchers.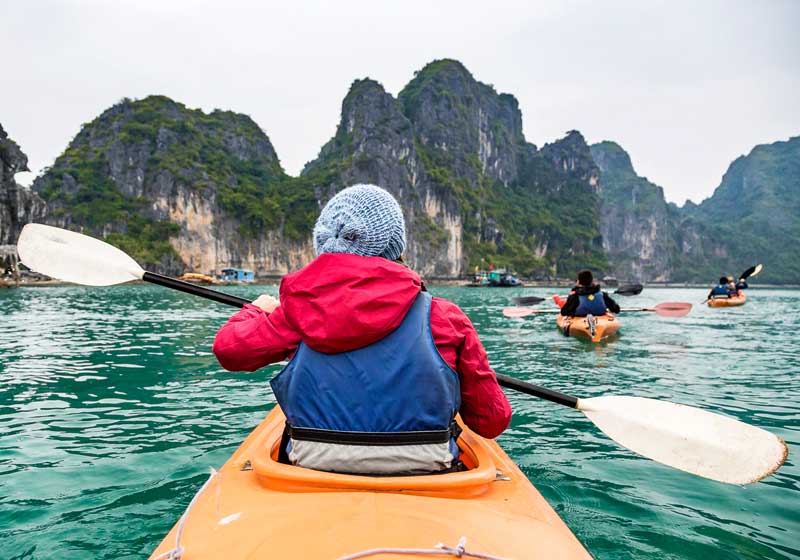 Another highlight of Lan Ha Bay is its pristine beaches, some of which are only accessible by boat. These secluded beaches offer a perfect escape from the hustle and bustle of daily life and are ideal for sunbathing, swimming, or simply relaxing in the warm sun. Visitors can also book Lan Ha Bay 1 day tour from Cat Ba and take a kayak or small boat to explore the hidden lagoons and caves in the area, which are a truly spectacular sight to behold.
In addition to its natural beauty, Lan Ha Bay is also rich in cultural heritage. Visitors can visit the Cai Beo floating village, which is home to a thriving fishing community. Here, they can learn about the traditional way of life on the bay, witness the daily routines of the fishermen, and sample some of the freshest seafood in the country. Monkey Island, located near the fishing village, is another popular attraction, where visitors can observe a troop of monkeys in their natural habitat.
When it comes to dining, Lan Ha Bay offers a range of options, from floating seafood restaurants serving the freshest catch of the day, to local seafood stalls, and even international restaurants. Visitors can also enjoy a range of water sports activities, including snorkeling, scuba diving, and water skiing. For those looking for a more relaxed experience, there are several day spas and wellness centers in the area, offering massages, beauty treatments, and yoga classes.
In conclusion, Lan Ha Bay is a must-visit destination for anyone traveling to Vietnam. With its stunning scenery, rich culture, and wide range of activities