Where is Cat Ba Monkey Island
Cat Ba Monkey Island is located in the Cat Ba Archipelago in the Gulf of Tonkin, in Vietnam. It is part of Cat Ba National Park, which is located on Cat Ba Island in the province of Hai Phong. The island is located approximately 1.5 hours by ferry from the city of Hai Phong and around 3 hours by bus from Hanoi, the capital of Vietnam.
Cat Ba Monkey Island is a popular tourist destination located in Cat Ba National Park, in Vietnam. The island is known for its monkeys and is considered a sanctuary for the endangered golden-headed langurs, one of the rarest primates in the world.
Visitors can observe the monkeys in their natural habitat, take a guided tour, and learn about the efforts to conserve the species. The island also offers beautiful scenery, with lush forests and beaches, making it a popular spot for hiking, kayaking, and other outdoor activities.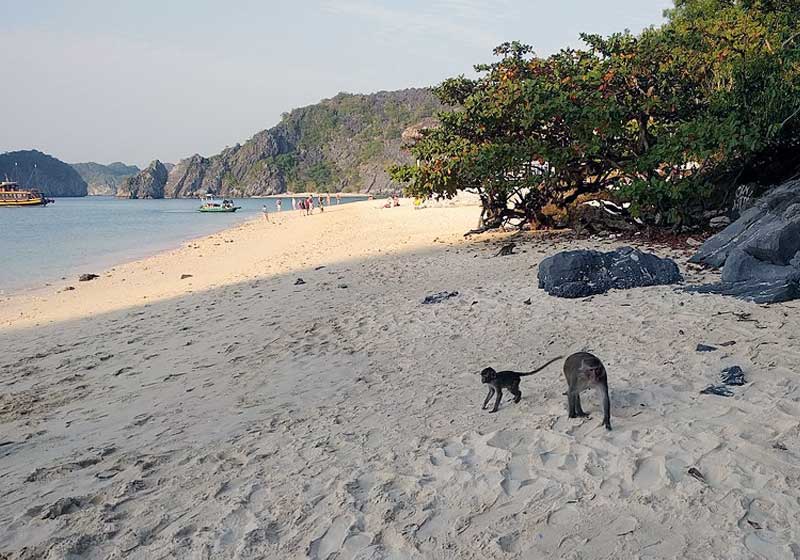 Cat Ba Monkey Island Resort
Cat Ba Monkey Island Resort is a private island located 2 miles from Cat Ba town. The beach here is one of the most beautiful beaches in Cat Ba Island. The sea water is so clean and emerald, the climate here is wonderful and nature are so beautiful.
Come to Cat Ba Monkey Island Resort, you will have a wonderful time staying in bungalows, enjoy the fresh air of the ocean, enjoy swimming at the private beach, do kayaking in the bay, swimming, playing football, volleyball or billiard….or you can climb up the mountain for the spectacular view of Lan Ha bay.
Cat Ba Monkey Island Resort has 29 rooms which are equipped very comfortable for your stay with quality beddings, air conditioner, and private bath room – hot shower, LCD. Especially, your room has view to the sea and you can enjoy some drinks seating at the corridor in front.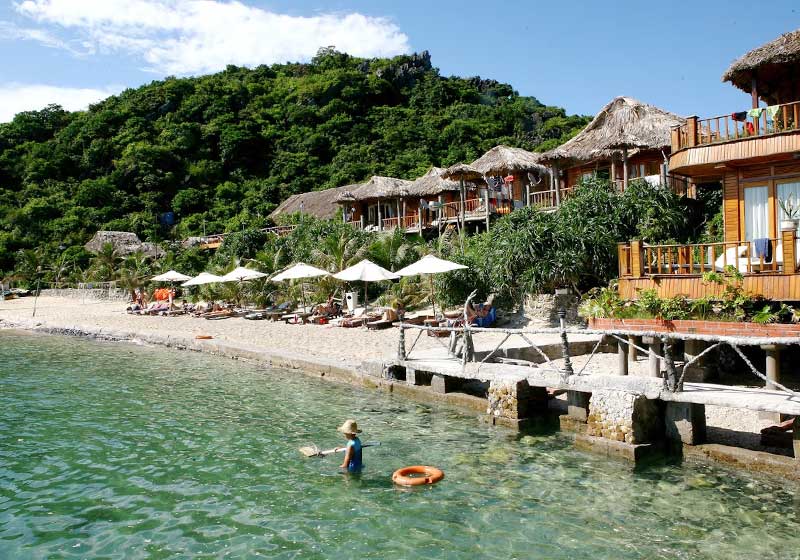 Monkey Restaurant stays next to the beach and in front of the beautiful garden where you can enjoy Vietnamese food or Western food. You can seat here for drinking, waiting for the sunset in the afternoon or watch thousands of stars in the evening.
Monkey Island must be the best place for travelers those want to enjoy many activities, love the private beach…on the tour to Halong bay – Cat Ba Island.
How to get to Cat Ba monkey island from Hanoi
To get to Cat Ba Monkey Island from Hanoi, you can follow these steps:
Take a bus or private car from Hanoi to Hai Phong, which takes around 2-3 hours.
From Hai Phong, take a ferry or speed boat to Cat Ba Island at Got harbour. The ferry ride takes around 30 mimutes, speedboat 10 minutes.
Once you arrive on Cat Ba Island, you can take a bus, taxi or rent a motorbike to reach Beo harbour.
From Beo harbour, you can take a boat tour to Monkey Island. The boat ride takes around 30 minutes.
Another most convenient option is that you choose a tour package from Hanoi to Cat Ba Island and drop you off at the tourist pier going to Monkey Island, the package price ranges from 11 to 13 dollars depending on the time of travel.